Welcome to Passion Flower Cannabis Collective! Brought to you by the team at Fairwinds – Washington's most trusted cannabis wellness brand – our interests at Passion Flower are simple. We're all about providing top quality, pesticide-free cannabis products to all Washington consumers. For us, it comes down to one simple reality…

We've Partnered With A Few Select Farms That We've Vetted Thoroughly.
Most importantly we require at a bare minimum, that all of our partners' grow operations be completely free of any and all pesticides. When we say pesticide-free cannabis, we truly mean it – every Passion Flower product comes with third-party pesticide testing to back this up! Because pesticides are gross and clean cannabis is possible.
Terpene-Packed Concentrates
Sourced using pesticide-free flower only, Passion Flower concentrates are extracted using the same terpene capture method as we do over at Fairwinds. Our concentrates provide all the delicious flavor, taste, and effect consumers love!
Your Favorite Pre-Rolls
in a Variety of Strains
Made using high-quality pesticide-free full flower buds. Passion Flower pre-rolls come with 2 half-gram joints, in a variety of your favorite strains! We carefully pack each one for you to be ready to enjoy with friends at your next smoke sesh!
Washington State's only Full-gram ceramic vape cartridge
For us at Passion Flower, making the choice to use ceramic vape cartridges over steel was simple. As Washington State's only full-gram fully ceramic vape cartridge supplier, we're happy and excited to be leading the way with this new technology. You'll notice the difference as soon a you puff on Passion Flower vapes.
New Innovative edibles -
high potency nectar drops
Nectar Drops have 100mg THC stuffed into a small 3ml vial. We wanted an edible that was potent, for those looking for all the effects, minus the added sugars and emulsifiers. Nectar Drops are also precise, made to cater to those needing smaller doses as well, with each drop giving just 1mg THC.

Follow Passion Flower
News & Education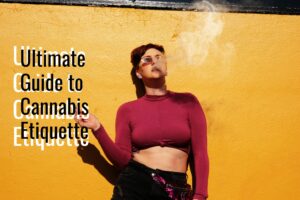 Just For Fun
Cannabis Etiquette – Do's and Dont's As the legalization of cannabis continues to spread throughout the world, more and more people are finding themselves partaking
Come chat over on
Passion Flower's socials