At Fairwinds and Passion Flower, education is always at the forefront of everything we do. When we set out to create a totally pesticide-free recreational line for Washington State consumers, we wanted to be anything but just another brand on dispensary shelves. So in addition to our colorful rainbow packaging, every Passion Flower product comes with educational tools!
Taking the guesswork out of buying
We know that budtenders have hundreds of products to choose from when making recommendations for their customers. Additionally, there are only so many things each dispensary employee can personally try. But we wanted budtenders to be able to sell Passion Flower with confidence, whether they've had a chance to try our products themselves or not! It's no different for our valued customers – if you haven't tried one of our strains yet, we want it to be easy to understand how something is likely to affect you. Not only does this make it simpler to buy with confidence, but it's also our goal to make it easier for you to make future purchase decisions once you know what works well for you and what may not be the best fit.
Our label breakdown
Here's an example of one of our product labels and what information we provide: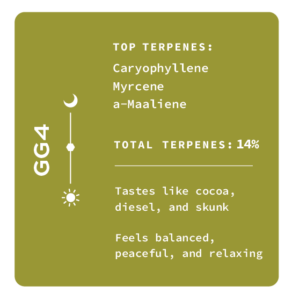 Strain name and genetics
At the top of every label, you'll find the name of the strain. Directly underneath this, we place a sliding scale to indicate the genetics of the plant (where they skew as far as "Sativa" and "Indica") and whether this particular strain is likely to be more uplifting or relaxing.
Flavor and effect
We also provide the top three flavor and effect notes for each strain! In addition to researching common taste and feeling notes across sites like Leafly and Allbuds, we conduct an in-house testing panel for every cultivar we release. This group of dedicated cannasseurs ensures that what we're putting on our labels is as accurate as possible. 
Cannabis is different for everyone who consumes it (thanks to your unique Endocannabinoid System), so there's no guarantee that what we think something tastes and feels like will be exactly what you'll experience. However, providing these general guidelines can help customers out if they're shopping based on specific flavors!
Terpenes
It's becoming more common across Washington for cannabis companies to provide information about their products' terpene content, but it's still not as prevalent as we would like. We test our products to get a full terpene analysis and include the top three on every package label! For our concentrates and vapes, you can also find a total terpene percentage listed. In addition to impacting the taste of different strains, terpenes also play a huge role in how different cannabis cultivars affect consumers. Plus, including this information can help customers make more educated purchasing choices. For example, if you were to try a strain you really enjoyed and saw that it was rich in the terpene Limonene, you may want to look for other strains that also tested high for that particular terpene!
The Passion Flower promise
We'll always work to be as transparent and upfront about our products as possible. Providing information that helps customers make informed decisions and budtenders to recommend our products with confidence is of paramount importance to us. If you ever have questions about our products or practices, don't hesitate to reach out to our team by emailing info@fairwindsmanufacturing.com or dropping us a line on Instagram! We'd love to hear from you.
Thanks for reading,